Last Updated on Saturday, 01 March 2008 12:47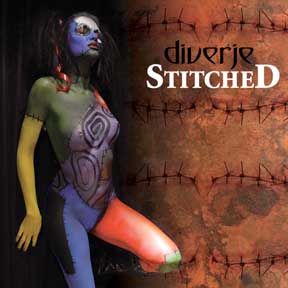 Artist: Diverje
Album: Stitched
Label: DSBP

Diverje has been a presence in the harsh electro scene
for some time, formed in 1996, the band already has
built up a rather impressive catalogue. "Stitched"
continues on this legacy, this is a solid album, from
a band with the right credentials and some staying
power. Probably, if you go to a decent club with a DJ
with some wherewithal, you are going to be dancing to
some tracks off this album in good time. This is a
strong album from a band that has not only a knowledge
of where the genre is going, but an awareness of where
the genre has been.
The album opener, "Smell the Blood" sets the standard
for the album. It's aggressive, but danceable. This
album s going to play well for DJ's looking to keep a
good floor going. Even if you don't know Diverje's
songs, you are going to want to dance to it when a DJ
spins it.
There's more to this album than the usual crowd
pleasing EBM though. Diverje dose a dance floor track
well, but the album goes quickly in other directions
that will set it apart from some of the other urrent
offerings in Industrial and EBM. "Tear It Down" has a
blistering guitar riff, and the verse riff is brutal.
Couple this with great samples, and a sick vocal
track, and "Tear It Down" might just be the strongest
song on the album.
"Come Back" is a drastically different song, much more
poppy than many of the songs that preceded it. It's a
guitar-driven track, but with a pop sensibility, it
really showcases Diverje's versatility. It is more Die
Krupp's than Hocico. It's a surprising track on this
album, but a very good one. "Mainstream Collapsing" is
another great track on this album. It's an anthemic
industrial song, which owes more to the great
industrial bands of the 1990's than the current cookie
cutter crop of EBM. If there's any justice in the
world, you'll be hearing this song real soon.
The album ends with one great remix after another.
There's not really a throwaway track on this album.
Diverje takes chances with many of it's songs. The
strength of this album is how the Diverje doesn't
settle into a successful formula in this album, but
creates songs that draw from influences all over the
genre. The album is not necessarily terribly cohesive,
but it's a strong album from a band that anyone in the
genre ought to be paying attention to.


<![if gt IE 6]>
<![endif]>
---