Last Updated on Sunday, 11 May 2014 20:05
Artist: Moving Units
Album: Neurotic Exotic
Genre: Indie Dance, Nu Disco
Label: Three One G / Metropolis Record
Release Date: – September 10th, 2013

After a typical rock band falling out among former members, Moving Units returns with a different line-up for their third full length release Neurotic Exotic.
Now, I normally review EBM, industrial, a bit of metal etc but, but after a brief synth intro which put me on what I thought was comfortable territory, the band makes its new direction abundantly clear; gone is the post-punk influence of their first two releases, in its place stands an unbelievably smooth, well produced funky-indie groove.
Moving Units are a band in the strictest sense of the word, each instrumental element coming together with synth influences to form an immaculate whole, and oh, that plucky bass guitar is sweet, think Chilli Pepper's Flea working towards the quality, sophisticated ends of indie such as The Rapture, with the whole sound evoking a feel of a funky, more disco-ey Killers. On stand-out opener "Attack Everything", singer Blake Miller's vocals are akin to the plumy, androgynous refrain of The Scissor Sisters, but this style shifts continually throughout the album.
"Bridges to Nowhere" continues to demonstrate the funky-plucked bass guitar groove sounding a little like Bloc Party's pleasantly sunny yet knowingly moody vibe. These distinctive vocals develop and twist throughout the album, creating instantly likable indie-disco-funk-rock of the highest order. "Girl Like U" turns up the head-bopping, shoulder-rolling groove even further, the bass (I really can't get enough of it!) plays expertly off the other elements and all the band's components are distinctive prominent, exciting and perfectly balanced in the mix.
"Everybody Loves a Star" is slick and infectious, and this track has a sound not dissimilar to The Cure at their more upbeat moments.
There is heavy use of retro 80's and 90's samples throughout, which seem completely natural and, above all, fun, and they are particularly prominent on the cheeky, 8-bit influenced "Modulator".
Another stand-out, morish track is the ever-so-slightly-sleazy "Kate Moss in 97", which I also can't seem to put down!
"I Wanna Go Dancing" brings the synth backing to the fore, stylistically feeling like a chronology running from Kraftwerk, through Daft Punk to Crystal Castles, all rolled into one, and is quite a bit 'trippier' than the rest of the output so far.
Always good to hear a fully accomplished track such as "The World is Ours" near the end of an album, where many acts may have resorted to filler at this point, Moving Units continue with their groovy-indie-retro shtick, and although most tracks follow a similar pattern, it is so fun and engaging you don't notice and the album feels like its ended too soon.  It finishes off with the only down-tempo track on the album, "Dark Side of the Room", which brings you back down to earth gently to finish off the album perfectly.
As I said before, this is not normally 'my kind of music' but I have re-listened to this album so many times for its fun and infectious, instantly danceable cool fun funk that it may have melted my frozen goth heart. You know what, for all those hardened EBM rivetheads that manage to read through to the end of this review, I say to you this: Give it a try, it is exciting, immensely enjoyable, enough to put anyone in a good mood, and a perfectly respectable way of cheering up an almost universally furious and/or morose record collection, as it has done mine!
Take a Listen: "Everybody Loves A Star"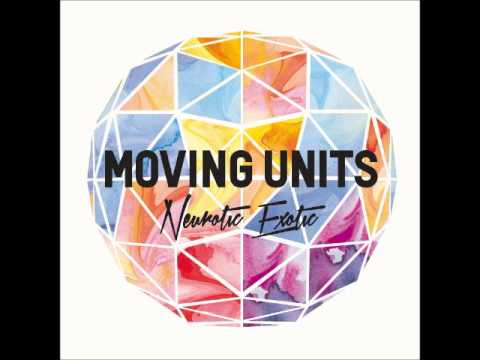 <![if gt IE 6]>
<![endif]>
---