Last Updated on Tuesday, 05 November 2013 18:33
Artist: Hopeajärvi
Album: Hopeajärvi
Label: Ektro Records
Genre: post-post-punk
Release Date: July 18th 2013
More Finnish underground music on Ektro Records: Hopeajärvi have released their first released Hopeajärvi.
Hopeajärvi claim to be post-post-punk, and in this case it means a mildly freshened up and modernized sound of post-punk. We have rock'n roll riffs, punk-style high-pitched screams, and hints of post-rock here and there.
Hopeajärvi is a short recording of 21 minutes in total that touches upon post-rock, alternative rock, hints of glam and punk, with the structure of the tracks sometimes as in progressive rock (think Riverside), but more 3-chords-rock oriented. As the album is completely sung in Finnish, it is not very accessible in its contents, and leaves me wondering what this actually is all about.
Here and there, Hopeajärvi brings us references to the work of Garbage in the mid-90s, which is a surprising element for a post-post-punk track from the Finnish underground. This reference is very noticeable on "Juo Rahat", where the vocalist suddenly sounds like a Finnish version of Shirley Manson.
Some tracks on Hopeajärvi are worth a special mention. The 3rd track, "Kuoppa" grooves very much, and has a bass line that seems to borrow from funk and swing a la Dire Straits. "Kuoppa" makes me feel like singing along, even though the track is completely in Finnish.
The final track "Kiinnostaa" is a punk-like track with chords in a downward spiral of chaos, and shows us a hint of the true punk-heart that might behind the more polished sound of Hopeajärvi.
Overall, Hopeajärvi falls in between two categories: they are not exactly seminal and experimental, pointing the way to a new musical style; but they don't sound familiar or catchy in any sense either. Struggling to find their place in the musical verse, the bad news for Hopeajärvi is that I fear that they are not remarkable in any way. They're great at what they do, but what they do is serving up a lukewarm soup that keeps you frowning.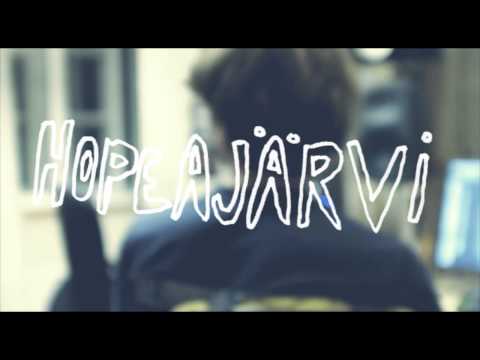 Buy Hopeajärvi – Hopeajärvi
<![if gt IE 6]>
<![endif]>
---