Last Updated on Saturday, 09 March 2013 23:00
Artist: INXS
CD Title: KICK 25 (Super Deluxe Edition)
Label: Universal UK
Genre: New Wave/alt rock/rock/pop
In a world of excess and gluttony, no one is safe from the term "bigger is better".
Though in many cases (get your mind out of the gutter) bigger is not necessarily better. So many choices to pick from, our eyes light up when the counter clerk says " do you want to biggie size that?". It's just another way to stretch our waistlines and our wallets. The music industry is no better. There is always a new re-mastered or re-mixed edition. They keep finding new mixes, demos, remixes and live tracks that we just can't live without. However, for a collector like myself, you are basically getting screwed (and not in a good way). You have to buy each new edition in order to get the best mastering and the most exclusive bonus tracks, but it is simply... excess, excess, excess. When does it stop? When do we the fans and consumers get a break? How long should we wait to drop $50 or $60 dollars of more on a Super Duper Pooper Scooper Deluxe package?.
It is kind of like the IPhone, by the time you stand in line in the rain for hours to get the hottest, newest, freshest upgrade, you can be sure that they are already finishing up the next hottest upgrade in some laboratory in Japan or wherever. So when do we say enough is enough? Do we wait until CD's are almost obsolete to buy the Super Duper Deluxe Package from your favorite artist? or do you take your chances and get the latest edition and hope that they have run out of new material to unearth?

So that being said, let's quickly explore the difference between the Special, Deluxe & Super Deluxe 25th Anniversary editions. Then you can decide for yourselves which one you want to drop some serious dough on.

 In 1989, they released "Kick Special Edition" as a Japanese import. It contained the original tracks plus 6 bonus tracks. That sounded good. In 2004, they released another import, "Kick Deluxe Edition" it contained two discs, 24 tracks. That sounded even better, more bang for your buck. Then, just when you thought it couldn't get any bigger or better, they released INXS 25 (Super Deluxe Edition) in celebration of the hit album "Kick" being 25 years old and it contains three discs, and a whopping 32 tracks, that is 8 more tracks than the 2004 release which only had 24 tracks. PLUS.. you get a DVD chocked full of Live Kick Tour footage, promo videos, and a documentary. Strangely though, you do not get hardly any of the official videos?  You figure if they are going to take the time to release a DVD for a particular album, that they would at least bother to put ALL of the music videos on the DVD from that album, right? Sadly, this was not the case. If you can't live without all of the videos, then I strongly suggest to buy this DVD.." I'm Only Looking - The Best of INXS (2004)". If you get INXS- "KIck" Super Deluxe 25th Anniversary Edition" & "I'm Only Looking - The Best of INXS (2004)" not only will you have almost every song, remix, demo, and live track INXS ever made for "Kick" (that we know of) but you will also have all of their awesome music videos that span their amazing career.

Now onto the album INXS- KICK 25 (Super Deluxe Edition)..It's exactly what you would expect from these hit making Aussie's. Thirty two of your favorite hits from the LP "Kick" like " New Sensation", "Devil Inside","Mediate","Mystify", "Never Tear Us Apart" and of course the Number 1 smash hit "Need You Tonight". There is also a plethora of remixes, there is more than enough B- sides, demo's, outtakes and live tracks to feed the hungriest INXS fans who just can't get enough.
The only drawback is really minor, they could have put the extended version of "Different World" that was first heard in the film "Crocodile Dundee" in the party scene. It always seems the longer version never gets a proper release even though it can be found on 12" or CDS, and Guns in the Sky (Kookaburra Mix) on the B-Side of the U.S. 7" single of "New Sensation".

When you see the price you are going to get a "kick" in the....Be prepared to spend anywhere between $75 and $90 on this fully loaded treasure. If you get the DVD I mentioned earlier along with this awesome CD package, you'll be spending around $100 bucks, But hey, what's a hundred measly bucks? You'll probably just have to skip the rent, a few bills, a car or mortgage payment, eat Top Ramin noodles or suck ketchup packs and creamers you "borrowed" from the local diner. I'm sure your dog or cat won't mind you sharing their Kibbles N' Bits or Meow Mix ....but you'll be one happy INXS fan!

DIDN'T FEEL LIKE READING MY ENTERTAINING & INFORMATIVE REVIEW?  TO SUM UP.....

Super Deluxe four disc (three CDs + PAL/Region 2 DVD) Edition filled with live recordings, demos, remixes, promos and a documentary. Comes with a 64-page art book, which includes never seen before handwritten lyrics directly from Michael's family archives, unseen photos, diaries, and interviews with each band member and the producer of the record, Chris Thomas. There is also a KICK sticker sheet and original tour poster...
Now that's a whole lot of "Kick" for your buck!

Watch this awesome promo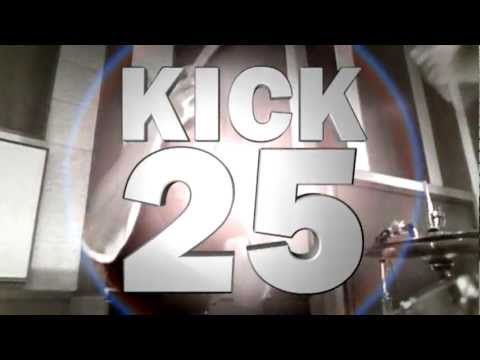 BUY KICK 25 (Super Deluxe Edition)
BUY -I'm Only Looking - The Best of INXS (2004)
<![if gt IE 6]>
<![endif]>
---