Last Updated on Sunday, 26 October 2014 19:01
After being lost for several years, a musical outlet was created as a way to channel the vast thoughts, ideas, and sonic visions bringing them to fruition through a heavy electro minefield called Machines on Blast!
In early 2014 M.O.B. added Recording/Live Guitarist Sabien Kane, Since Sabien was brought on board the sound of M.O.B. has morphed into a darker, heavier, wider entity than the prior recordings had shown, which in turn has opened up many more doors for the group.Also in 2014 drummer Chris Marshall was added to the live line up.
Check out our interview with Even Mitchell from the band!
GC: Hello Evan and thank you for accepting the interview with Grave Concerns Ezine. For people out there that don't know the band, would you be able to give a brief description of Machines on Blast and the music you create?
Evan: Well, thank you for the interview! I would describe Machines on Blast as a dark electro/industrial/Agro/rock, outfit, aggressive and melodic, with an in your face agenda.
GC: How did the tracks come together for your EP Machines on Blast? Does the band sit together and map out song structures and lyrics? Or is it done separately with each adding to an idea on their own?
Evan:Well, I create and write all the music and lyrics for M.O.B. After I get a good bone structure for the song I will send the tracks over to Sabien to record his guitar parts, If I have an idea for how I want the guitars to go I will let him know my ideas, but normally I just send them over and what he comes up with is spot on for what the song needs. When Sabien sends his tracks back, I will mix them into the song, clean up everything and add any extra parts that complement the guitars then record the vocals.
GC: I recently had the opportunity to review your self-titled EP and was blown away by the quality of the tracks. The range is diverse and I can imagine it being enjoyed by a very mixed group of people that enjoy different genres. There is also this new, yet old industrial feel that will tantalize the extremist and newbie enthusiast. How are you finding the support by fans for the EP and the band?
Evan:The responses have been very flattering, we are getting a slow but steady growth from the people that are discovering us through social media sites, word of mouth, or just old fashion standing outside of clubs and passing out promo CD's. I know there are a million other bands out there and it feels good knowing that we are able to shine through the vastness of it all, for creating what we love!
GC: Your self-titled EP is out but fans are already asking the question about an album. Are you able to give an approximated date of when we can expect a full album release or will you be touring the new EP for a while then getting in the studio after to create new songs for an album?
Evan:Well the E.P. has only been out officially for a month now, but I am constantly writing music and stockpiling songs so when that time comes to release a full length product We will have plenty of songs to choose from and weed out the ones that are not up to par. I would say that spring of next year would be a good time to release a new album. As far as shows are concerned, we have some things in the works that we are excited about, but until they are confirmed our goal is to get the live set as tight as possible before we get out there.
GC: Many bands are opting to release without being signed and a question mark hangs over labels especially as sales are down everywhere. Are you in search for a label for an album release, or do you think that a label setup isn't for Machines on Blast?
Evan:That's a question that gets brought up a lot actually...To sum it up, we will continue to work as hard as we can to put out and push the best music and merch we can create, and take it as far as we can. If a label offer is to come along and they can put us places and do things for us that we are not able to get to on our own, then I would love to have that kind of support and backing behind the band. Especially touring, we want to tour!!!!
GC: What are your goals as far as your music career?
Evan: I would love to get to a place where music / music related concerns are all I do.
GC: Are there any bands that you draw inspiration from?
Evan:not so much any band in particular, but I do tend to veer towards artist that write music that takes you places, be it a Cat Stevens or a Skinny Puppy....I like when you can listen to a song and even if you don't know the lyrics you can still feel the emotion of the voice/music.
GC: What are your current favorite artists/albums?
Evan: I have been listening to these artists a lot lately. Gary Numan, Janis Joplin, Definitive Strike Type O Negative, Man Women Machine, Vast, Combichrist, My Parasites, KMFDM, Standard Issue Citizen, Rammstein, Peter Murphy, Carcass, Visions in Black, Hope Sandoval
GC: You have a major show coming up opening for Combichrist in Puerto Rico for their first show of the South American "We love you" Tour. What can the audience expect from a MOB live show?
Evan: I can promise an energetic, atmospheric performance, we definitely always strive to bring our A game. Oh and it will be loud, hahaha
GC: With the vast array of music programs out there, which is your favorite to work in when creating songs or remixing tracks?
Evan: I use Sony Acid 7 for a lot of the pre-production mainly because I've been using the acid line since version 2 came out... I will use Cubase for other aspects as well.
GC: What can we expect from Machines on Blast in the future?
Evan: I promise that we will keep evolving and creating the best music we can! Our goal is to take this as far as it will go.
GC: Thank you for taking the time to answer these questions. I wish you success now and for the future.
Evan: Thank you very much; it's an honor to be interviewed by you and Grave Concerns, We should do it again sometime! And thank you to everyone who is / has been / or will be supporting our work, it means the world to us!
 Take a listen:  The Order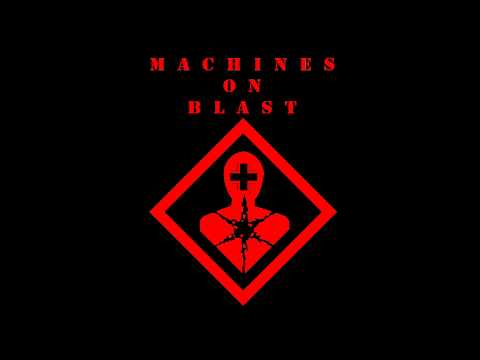 <![if gt IE 6]>
<![endif]>
---