Last Updated on Tuesday, 19 March 2013 19:10
On March 19th 2013 Davey Suicide released their debut album. Davey's industrial tones will not fail to amaze and shock us all.  His solo album has been one of the most anticipated releases of this year.  Grave Concerns Ezine had the pleasure to talk to Davey and here is how it went.
Phill – Hi Davey, thank you for giving Grave Concerns Ezine this interview, can you tell our readers a little bit about yourself?
Davey – I woke up one day and realized it was my duty to give fans a place to go when no-one else is there to listen.  Hence, Davey Suicide.
Phill - Your name comes as a reminder to yourself that there was no reason that you couldn't accomplish anything, so what is your greatest accomplishment in life?
Davey – I haven't accomplished it yet but we are on our way.  Making a living off of what you love has always been the goal.
Phill – What are your musical influences?
Davey – Guns N Roses, Eminem, Manson are my top 3.
Phill – When in life did you realise that you were going to become a musician and what was it that spurred you on?
Davey – My friend in 8th grade had a Fender Strat that I would play and he was in the school band.  I'd walk by the band room on my way to lunch and it always made me stop and watch.  That coupled with Guns N Roses had me obsessing about learning.
Phill – What has been your biggest challenge to date as a band?
Davey – Survival on the road can be tough at times.  It's hard to stay healthy, and on the up and up. 
Phill – Are you fully in control of the music making process Davey and if so can you describe to our readers how you give life to songs?
Davey – This is the first band that didn't try and hold me back lyrically.  I think that's why it came out so special.  Frankie & Needlz understand and agree with where I'm coming from so there's a no holds barred attitude in songwriting. 
Phill – What band do you feel has had the biggest impact on the music industry as a whole and why?
Davey – Part of the reason that I love GNR, Manson and Eminem so much is because they made the industry cater to their art.  To me, they've won
Phill – What was it that gave you the inspiration to start making your own clothes?
Davey – I couldn't find anything in stores that I loved, so I took the bones of something and modified it to my liking.
Phill – What is the most embarrassing album in your music collection?
Davey – Avril Lavingne, Pink and Shania Twain.  I'm a sucker for a good female singer but fuck it, they can belt.
Phill – What is your favourite film?
Davey –  I have a lot but Devil's Rejects, Forrest Gump, Silence of the Lambs, Edward Scissorhards and the Life of David Gale are a few.
Phill – What is your favourite alcoholic drink?
Davey – Who doesn't want Sex on the Beach, and Lithuanian Whisky?
Phill – Thank you for giving Grave Concerns this interview, is there anything you would like to add?
Davey – Support bands that put the art back into the artist.  Full Length Album MARCH 19 2013. 
Take a listen here: Davey Suicide- "Generation F**KStar"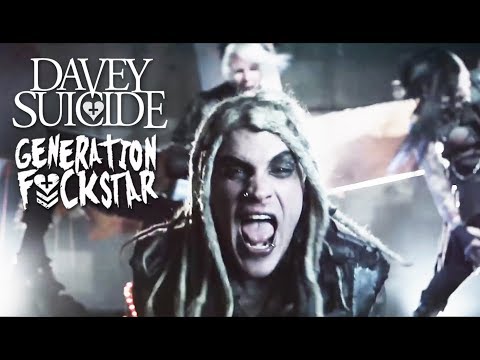 Buy- Davey Suicide-Genteration Fuckstar
<![if gt IE 6]>
<![endif]>
---