Last Updated on Sunday, 10 March 2013 18:26
When you hear the words Nitzer Ebb what do you think? To me they sum up pioneers of the industrial EBM sound that has rocked the alternative world for a long time. They are a band whose music you associate with dark and devious beats. To me they are like The Sisters Of Mercy but of the EBM genre, they helped create and define some of the music we love today. Nitzer Ebb are still producing and defining EBM so it was with great pleasure to Grave Concerns Ezine when we got to speak to Douglas J. McCarthy from Nitzer Ebb and ask him about Nitzer Ebb and also his new solo album Kill Your Friends.
Phill – Hi Douglas thank you so much for giving Grave Concerns Ezine this interview. You came from German techno scene but you are from Essex in the UK. Were you more popular in Germany in the early days?
Douglas – Hi Phil, Yes we were. We had been greatly influenced by the music coming out of Germany – Abwärts, Malaria, DAF etc – so I think it was pretty natural for Germans to hear something they liked in our music.
Phill – What is your fondest memory of when Nitzer Ebb first started?
Douglas – Wow, there a lot. I guess having our first record, 'Isn't It Funny How Your Body Works', actually in my hands and then on my turntable.
Phill – I hear quite a lot when interviewing bands that they hold you as an inspiration for their music, so what bands inspired you to form Nitzer Ebb?
Douglas – Like most bands, a combination of ideas, styles and genre all swirled into the mixing pot from our youngest days of Glam Rock and disco to punk and European electronic music, also in there was a fondness for DADA-ism, the German Photomontage artist John Heartfield, books by George Orwell, Milan Kundera and others, a slew of films, of course, Cronenburg, Peter Greenaway, David Lynch and many more.
Phill – So how did Nitzer Ebb get together and what was the reason behind the band's name?
Douglas – We were at High School together. Myself, Bon Harris and David Gooday were, with a couple of other friends, skateboarding, going to see bands play live and listening to music, being teenagers basically. The name was just letters and words cut up in a hat and randomly pulled out pulled out á la William S. Borroughs.
Phill – You are true pioneers of the EBM and industrial scene, what do you feel is the key for you keeping going as you have while other bands of that era have unfortunately faded?
Douglas – We always have prided ourselves on not resting on our laurels. Partly through a low boredom fresh hold and partly out of wanting to push against any boundaries that others might attempt to place around us. It is certainly something that I still live by.
Phill – Your new solo album Kill Your Friends has just been released, it was written whilst travelling the world at what was a hard time for you really. How much of the hard time is reflected in Kill Your Friends?
Douglas – It is there alright. I used the process as a cathartic exploration of how I was feeling for sure, although I wanted the lyrics to be highly evocative, I didn't want them to be so straight forward that it's immediately clear what is exactly being said, even by myself. I like that there's room for interpretation.
Phill – I must say having heard Kill Your Friends it's an astonishing album indeed, what makes you most proud about Kill Your Friends?
Douglas – Finishing it! No, I am extremely proud that I pursued the process the way I wanted to do it. The responsibility of sticking to your guns can weigh quite heavily at times but, with my producer Mark Bell, we managed to get there in the end.
Phill – To me Kill Your Friends clearly reflects your amazing career so far, some songs have elements of the great heyday of the electronic scene. But yet you have managed to harness that great sound, update it and given it your own musical signature. What do you feel is your musical signature?
Douglas – Thank you. Obviously my voice and vocal/lyrical approach are a big part of it, but also not just relying on one aspect of a song to carry it – a great sound with no song or vice versa sound weak to me, there has to be a balance in the work.
Phill – I must admit you have songs on there like Move On which are DJs dreams, guaranteed to fill the dance floor. What do you imagine fans of your music to look like?
Douglas – Well, one of the things that Nitzer Ebb taught me was to never 2nd guess your fans. The best you can do is to make the music you want to make and hope there is an audience willing to come with you on that journey.
Phill – Why did you decide to call your solo album Kill Your Friends?
Douglas – Ha ha! This got a lot of negative feed back recently when the album was posted by Depeche Mode. Basically it is a play on the old adage "keep your friends close and your enemies closer". My wife and I were talking about some people we know who have a very challenging view on friendship, so we coined our version "love your enemies, kill your friends" which was shortened to just KILL YOUR FRIENDS.
Phill – If you were to sum Kill Your Friends up in a few words, how would you personally describe it? I ask this as I am set a back by it, it's an amazing album with so many feelings in there but the root of the album is just clearly you.
Douglas – It is a very personal response to what has been happening in my life the past few years delivered using the musical styles I have enjoyed since being a teenager and starting to make music.
Phill – Wolfgang Flur has said that he is a fan of your music with Nitzer Ebb, how does it feel to have such an iconic musician being a fan of your music?
Douglas – Absolute honour! Wolfgang hadn't seen Depeche Mode before he came to one of the last 2 shows of the Tour of The Universe. He watched a bit of the show then came back stage and said "yes, they are quite good". I took great delight in telling Martin. Haha!
Phill – Are there any bands or musicians of today's music that you consider an influence now and if so what is it about them that influence you?
Douglas – Yes, of course, but I have to say that new artists are few and far between. There's a London based artist called Powell that is very good and put me in mind of a sort of rock-a-billy Flowers of Romance era PiL. Always exciting to hear a new Depeche Mode album too!
Phill – So what's currently happening with Nitzer Ebb, any show's planned or any new material in the pipeline?
Douglas – No NE shows planned. I am starting to play a few solo shows commencing next month.
Phill – What music is currently in your cd player or playing lots on your MP3 player?
Douglas – Actually I am listening to Kill Your Friends a lot because I am rehearsing it. Other than that it's the usual suspects depending on my mood…. Brian Eno, a mix of songs made by my good friend Richard Clouston from his COSEY CLUB, a fair bit of Lou Reed, Caberet Voltaire…
Phill – Thank you so much for giving Grave Concerns this interview, is there anything you would like to add?
Douglas – Pleasure!
Take a Listen to Douglas J. McCarthy- "Move On" from the latest album Kill Your Friends.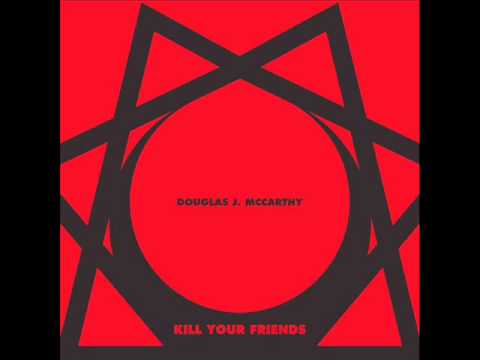 On the web:
http://www.douglasjmccarthy.com/
http://www.facebook.com/pages/Douglas-J-McCarthy/280225168708262
<![if gt IE 6]>
<![endif]>
---