Last Updated on Monday, 14 January 2013 19:41
2012 saw the 20th anniversary for Inertia which was marked with a tour and also the release of their new album Universal Blood. Grave Concerns Ezine got chance to catch up with Reza from Inertia and here is how it went.
Phill – Hello and thank you forgiving Grave Concerns Ezine this interview, can we start by you giving our readers a little info about yourselves?
Reza – Inertia was formed in 1992 by myself in London UK, since then we've released 9 studio albums, 16 releases and several tours including 10 US tours! I am also a member of the band Killing Joke.
Phill – In your early years Inertia went under a different name, what was Inertia originally called?
Reza – We started off as "Black Metal Jesus", after 6 months we changed it to "Mutagenic" then probably a couple of months after it was settled as Inertia.
Phill – Why did you decide to call yourselves Inertia?
Reza – No real reason, I simply liked the sound of it as a band name
Phill – In 1995 you played your first ever gig at Night Of Darkness in Germany, what was your first ever gig like?
Reza – That was our first German gig, but we had been playing live since 1992. Our first ever gig was in May 1992 at The Flag Club in Camden Lock, London. It was a little nerve racking but went really well.. the venue was packed!
Phill – Demagnetized/Remagnetized was a full album of remixes, why did you decide to release a full album of remixes and how did you choose the remixes to appear on the album?
Reza – We just wanted to hear other bands interpretations of our songs, that was released in 1998.. we also released two other Remix albums after that, "Positive Angel" in 2000 and "Interpret" in 2009, which was a Japanese only release, on DWA Records. That has some awesome remixes on it too, but only really saw the light of day in Japan. Most of the remixers on all the remix CD's were bands who were friends of ours.
Phill – You must have had some great remixes done of your songs, could you tell us a few that have really have impressed you?
Reza – There have been so many excellent remixes done for us. Ones that stick out are the Funker Vogt remix of "Regime" (Positive Angel), Die Krupps remix of "Paralyzed" (Interpret), Das Ich remix of "Hack" (Demagnetized) and more recently we had some great remixes on our current single "Alive" including mixes by XP8 and Paul Robb of Information Society.. that was released by Metropolis Records in October.
Phill – It wasn't until 2007 that you released a self-titled album, why did you choose to release it then?
Reza – Mainly because we had slowly been evolving our sound until 2007 when we feel we made a real change. Our older style was quite harsh EBM. But by 2007's INERTIA album, we had become more of a Dark Pop/Industrial/Electro Rock type band. Which, I was extremely happy about. So it was kind of a re-launch with that album. I also believe that I had finally found the sound I was looking for all those years with that album and that sound is what we continue to evolve to this day.
Phill – You have received some great press and recognition so far but what is the most memorable thing that anyone has ever said about you?
Reza – Yes, we've had some nice things said about us over the years. The most memorable is when Gary Numan said we were "the best and most aggressive band in London"!
Phill – 2012 marks the 20th anniversary of Inertia, what is your best memory from those 20 years?
Reza – Excellent memories and mainly touring memories as we have performed in a hell of lot of countries over that period incorporating 47 States in the USA!
Phill – How has the music of Inertia evolved since 1992?
Reza – As I mentioned before, I think our music has evolved immensely. We are not so EBM now, but more of a Dark Electro Rock act, where the focus is on writing great songs with meaning tied with dark melodic undertones. Before, I think we were a one trick pony. I still love the stuff we did in the early days, but I am super proud of the new stuff!
Phill – You have just released Universal Blood, your ninth studio album. How has this been received so far in the media?
Reza – It's been amazing. Press and fan reviews have been very positive. The main comment we have had is that people are getting hooked to the album and not being able to stop listen to it, as they enjoy it so much. Which is of course, amazing for us to hear. It's also been great for us to release the album on Metropolis Records, it's a chance for us to create new fans and followers with their fan base and reputation for being giants in the Industrial Music scene.
Phill – In three words sum up the music of Inertia?
Reza – Dark, Emotional, Electronic
Take a Listen for yourself: "Alive"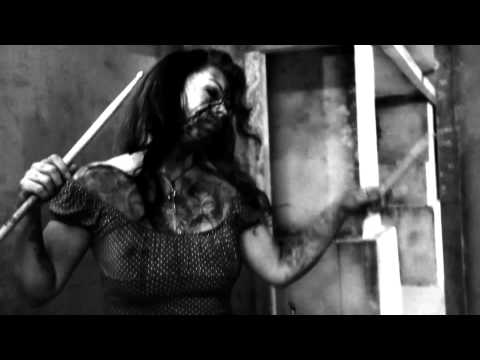 Phill – Which of the songs in your discography do you perform the most?
Reza – It changes from tour to tour and as we release new material. For a long time we played "Retaliate" from the "Programmed to Respond" album that was released in 1997. More recently "Repeat & Follow" from our last album "Deworlded" is quite popular in our set.
Phill – You performed at Whitby Goth Weekend this year, what was it like to play such an iconic festival and what has been your greatest gig so far?
Reza – It was a great festival, it's our 2nd time playing there. It's always a good gig at Whitby. We've had so many great gigs over the years. More recently, we had a super great gig in Vienna, Austria. A couple of weeks ago.
Phill – Thanks so much for giving Grave Concerns Ezine this interview, is there anything you would like to add?
Reza – Our album "Universal Blood" is out now on Metropolis Records, we also hope to tour a lot in 2013 including another US tour. Thanks for reading!
https://www.facebook.com/inertiaband
http://www.youtube.com/cryonica
<![if gt IE 6]>
<![endif]>
---