Last Updated on Tuesday, 02 October 2012 15:47
The Jesus Cleaver Interview
Interviewer – Phill Bruce
Australia has been known for some great exports and one less known gem of the beautiful country of Australia is the dark electronic sounds of The Jesus Cleaver. They have just released the first part of their new studio album "Life In Clouds", I got chance to speak to John P Shea – the man behind The Jesus Cleaver – and here is how it went.
Phill – Thank you so much John for giving Grave Concerns Ezine this interview, can we start by you giving our readers a little background about yourself?
John – Thanks Phill. I guess from the exterior, I'm pretty much like most people. I have a family, a job, I live in the outskirts of a large city. But upon closer inspection, a few things begin to stick out, like my vintage synth collection, guitars, way too much studio gear. These things that are artefacts of a general affliction on the creative front. But I think it's within the inner dimensions where the contrasts really start to appear. I'm pretty introverted most of the time, and more often than not, I can be found walking around with a frown on my head. I don't regard myself as an "up" kinda personality – there are moments here and there, and when they come, I really try and savour it while it lasts. But most of the time, I'm either angry, tired or frustrated – a real charm to be around sometimes!
Phill – What was the inspiration behind the name of The Jesus Cleaver?
John – Well, it was either that, or "The Topless Daughters of God"! You see – back in the late 80s – there was this (now long demolished) inner city pub in Brisbane, and on the chalk board outside, they were advertising "topless girls". Some pious soul had rubbed out "girls" and replaced it with "daughters of god". I thought it was pretty amusing that they'd resorted to vandalism to get their message across. They must have planned ahead to bring their own chalk! But anyway, the name itself is a literal interpretation of the Christian sacrament of communion, which was adopted around the fourth century AD. Rather than transubstantiation [where bread is believed to be transformed into the body of Christ], the name alludes to the tool set required for consuming the actual body of Christ. All in all, it attempts to convey a sense of power, but done in a humorous way. Of course, we're standing upon a long tradition in the goth/darkwave genres of borrowing religious names (enter The Sisters of Mercy, Christian Death, The Jesus and Mary Chain, Nine Inch Nails et al). Hopefully it's something both memorable and entertaining.
Phill – What was the first calling for The Jesus Cleaver, when did you know you could give the project life?
John – I've been writing since I was a teenager – for a long time all of my songs existed only in my head, and written down in this little notebook I carried around everywhere. Once I got more comfortable with the recording process, and rehearsals, I began to think about performing live. So I think the main impetus was a focus on performing live, and then releasing albums after that.
Phill – Your first album A Private Encyclopaedia had a variety of musicians joining you, who were these musicians and what was their role?
John – Circa 2001, we were briefly a two-piece, with [3] on bass. [3] was originally a member of [another Brisbane] band called Crude, and he also performed in The Jesus Cleaver. You can hear his work on the first two tracks ("Please Replia" and "Vulnerable To Falling") of that album. [3] is a very talented musician, able to interpret the songs and add a new level of energy. Shortly after our first live gig, [3] left to resume work in a covers band, and he later left Crude as well, with that band disintegrating thereafter. At the time, it was a pretty devastating blow (given the musical possibilities), but that's very much water under the bridge now.
On the track "Rend", I had the pleasure of recording Angie [Draper] and Tanya [Quinlan] for backing vocals. I think I discussed the project with Angie first, one night at a club, and she then got Tanya involved. Angie was doing some theatre work, and Tanya is trained vocalist. Anyway, they were both very professional, and I really like the results we achieved on that track.
Phill – You are releasing Life In Clouds as a few parts, what is your reason for doing this?
John – We took the decision to release part 1 [6 tracks] now as we wanted to get this new work to fans as quickly as possible, and we recognise (with considerable lament) that the album format is slowly dying. However, in an age where we're all busier than ever, sitting down and listening to a favourite album is in fact one of the more sublime ways to suspend time, albeit ever so briefly. So, we hope we've got the balance right, as this approach also lends itself to newsworthiness as well. I think I really surprised myself with [track 5] "Empty" in particular, which was only a matter of weeks old when we announced the release of part 1. Normally, I sit on track masters for months and months, if not years, so that's a habit I'll be avoiding now. We're hoping to complete part 2 of "Life In Clouds" in the coming year, and I'm on a bit of a rest now on the vocal front, thanks to some recent abdominal surgery that happened right after doing the vocals for "Empty".
Phill – Since it's release in July, how has Life In Clouds been received so far?
John – We've had a very modest reception to date, and certainly the music video for "Mercy" has helped to stimulate the conversation. A number of zines have picked up the announcement, which has helped to spread the word, and our video has also been added to a few sites. Importantly, we've received some playlist adds from dark alternative DJs, and to that end, it's been really amazing to see our tracks spun next to some of our biggest influences and contemporaries. So I think that, whilst we're a challenge to put into any sort of genre, DJs are starting to join the dots in terms of where we're coming from. We've had some encouraging tweets as well, but it's still early days – it will be interesting to see how part 2 fares.
Phill – Where in this world do you feel that your music has been best received?
John – I think nowhere, and everywhere, in the sense that we have very small pockets of interest spread thinly around the world. We have a small hometown following – mainly my friends who know I'm pretty mad already, and then every so often we'll get some great feedback from people in the States, in the UK, and places like Poland and Mexico. We're not designed for a mass market, so I think that if we could develop one true fan per city, that'd be fine. Enough of a personal relationship to be able to come and visit, should I find myself somewhere more exotic than in the northern suburbs of Brisbane. There are definitely places I'd love to visit again, like Berlin, Glasgow and Prague, and plenty more that I haven't been to yet, like Dallas or Helsinki. So I'm happy for things to slowly develop over time, person by person. In fact, we're really dependent on word of mouth in that regard.
Phill – You once hosted a podcast called The Afterglow Podcast, what was that experience like and what happened to it?
John – Afterglow was part of label operations for Extrinia, which was a vanity label we established in the early days for promotion. The [independent] label was hoping to attract other darkwave acts, and be a bit of a centre of activity on this front. Afterglow was active very early on the podcast scene, and for a while, we had our finger on the pulse, so to speak, with primarily independent new dark alternative music. I spent a lot of time looking out for new tracks, contacting artists and labels, and getting their permission to include tracks on the show. Eventually, this became a little frustrating – constantly chasing up artists, and also the podcast didn't generate the type of conversation with its audience that it was hoping to. We definitely received some great feedback, but the vast majority of listeners were doing so quite passively. So in the end, I think that the combination of rights management and lack of audience participation spelt the end. It's funning, but the other week I saw another podcast producer shutting down for exactly the same reasons. Afterglow shows are still available though if anyone wants to have a listen. It was a lot of fun putting them together at the time, and we got to work with some really interesting people, such as Roger O'Donnell, Tom Ellard and Alessandro Cortini.
Phill – What made you decide to make your music and lyrics very dark and emotional?
John – It certainly wasn't a conscious decision, that's just the way things have turned out. Each and every song begins with its lyrics. And it just so happens that the things I write about are, thematically, dark romantic by nature. I don't know why this is, but it doesn't seem to be something I can stop doing. So each song, through its lyrics, seeks to contain a certain emotional state or energy level. Sometimes it's irreverent ("Girl With No Name"), but more often than not, quite deadly in aim ("Life In Clouds").
The music for each song then grows and evolves from the lyrics up – sometimes quite quickly, other times through many, many iterations. But we get there in the end, often with strange and confusing results (but that keeps things interesting!). This is also pretty much the reason why we're in search of a genre, as each song really is unique. But on the musical front, I guess each song is somewhat constrained in that it has to try and portray the particular mood of the lyrics, and we're not talking about "Shiny Happy People" here, are we?!
Phill – If you had never become a musician how do you think you would have expressed your creativity?
John – I don't really consider myself to be a musician. At school, I didn't study music, but I always managed to borrow the music department's 4-track portastudio, Roland TR-626 drum machine, or Yamaha CS01 over the weekend (sadly, the Yamaha DX-7 was off limits!). I think my technical interest in electronics and music developed pretty early. In my teens, I was building distortion pedals, drum synths and the like. I got my first real sequencer – an Alesis MMT-8 – when I was 18 by sleeping outside Music Junction the night before they had a big sale – I paid a grand total of $10 for it! The music for quite a few songs on "A Private Encyclopaedia" were originally written on that, before I moved to an Atari 1040STe.
So I think that I was able to develop music technology and production skills, largely as a vehicle to service my lyrical output. It took a long, long time to develop any sort of confidence as a vocalist (a title which I'm barely able to lay claim to), and my instrumental skills (guitar, bass, keyboards and drums) leave a lot to be desired! Enough to get me by I guess. So overall, I think I'd say that I'm a seasoned lyricist, a decent producer and capable recording engineer, a pretty average vocalist and even worse musician!
But overall, I think all of these strands come together in a creative sense. The Jesus Cleaver has also opened up other creative outputs, such as web site development and programming over the years, and of course the graphic output through our posters and merchandise. The video side of things is now really piquing my interest, so perhaps there might be some more output here in the future.
Phill – Is there any particular event or the like that has inspired you to write a song, if so which one?
John – Most of the songs relate directly to specific events or conditions. Some of them are inspired by external events, but most of them are deeply personal and introspective. For each one, I can remember exactly where I was and what time of the day it was when I wrote the lyrics. Sometimes the meaning and interpretation changes slightly over the years, but the state of mind that I was hoping to capture remains pretty well preserved. But really, it's up the reader, isn't it? If someone else can relate to one of my songs, through their own experiences, then as a writer, I think that that's a pretty important reward.
Phill – What music are you currently listening to?
John –At the moment, I'm listening to "The Man Who Sold the World" by David Bowie (lots of 70s production in there!), Brisbane band No Anchor, and also the re-issue of "We Rose From Your Bed With The Sun In Our Head" which is a recent double live CD from SWANS. I was also listening to Gary Numan the other day, and I finally got a chance to listen to the extended version of "Entreat", which is a live recording included in the deluxe edition of "Disintegration" from The Cure. I try and tweet a #np whenever I'm listening to something interesting.
Phill – What is your one pet hate in life?
John – I know it sounds a little petty, but I really hate it when I lose my sunglasses. I always try and buy the darkest ones I can get, and if I don't have them on during the day, it's almost paralysing! Brisbane is in the sub-tropics, so we get a particular quality of sunlight and bright blue skies. For me, they're like a second skin.
Phill – Thank you so much for giving Grave Concerns this interview, is there anything you would like to add?
John – Only to thank Grave Concerns for the interview, it's been a real treat!
Thanks again and keep up the good work with The Jesus Cleaver.
Take a Listen: : Mercy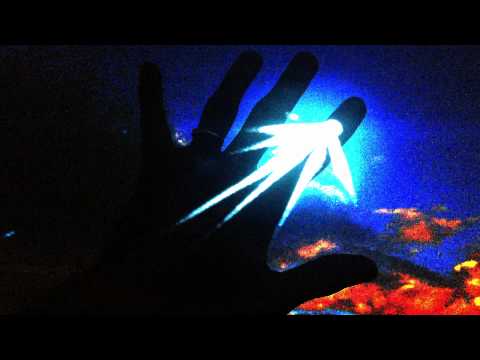 http://www.thejesuscleaver.com/
http://www.facebook.com/thejesuscleaver
<![if gt IE 6]>
<![endif]>
---