Last Updated on Sunday, 04 December 2011 17:50
Neurobash Interview
Interviewer - Phill Bruce
Interview Date - 30th November 2011

Hailing from Sweden Neurobash is a good solid electronica/EBM band with amazing talent.  I got chance to catch up with the main Oberfunker himself and this is how it went.
GC – Can you tell us a little bit of a background about yourself and where in this beautiful world you are from?
Ober – I'm Ewan "Oberfunker" Kelley - or in short "Ober". I was born in southern Sweden where I also live and work today, but also have a past in Germany where I also worked as a producer for a few years. Currently I live a double-life as member of the constellation Neurobash and as a graphic designer. Within the band my main role is lead singer, although we share all other tasks more or less equally.
GC – Why is it you describe Neurobash as a constellation?
Ober – Well it might sound a tad too ambitious, but I see Neurobash as something more than just a band. We are a dynamic group of artists, changing with each project. Of late, however, Neurobash has more or less been boiled down to a duo with more sporadic and clearly defined collaborations, which has made it somewhat easier to focus on a straight path ahead. Besides from this we do most about everything ourselves - from musical idea to finished album with cover art and a matching home page. We even produce the videos and full graphic profile ourselves to keep everything consistent with the same look and feel. It is all part of the concept.
GC – What other things do you do in Neurobash?
Ober – I write the lyrics, work a whole lot with the song arrangements and hammer around on the instruments at hand in the studio. At occasion that involves an electric bass, drums or a cither. And I keep check on the overall graphic profile.
GC – Why did you name your band Neurobash?
Ober – The name comes from one of our absolute favourite songs from the legendary Front 242. It was chosen because it has a nice ring to it and also describes the emotional side of the music that we aspire to write. It also sort of hints on the punk-attitude of our early live performances - sort of chocking at times really. Besides from all that we do feel a bit like kindred spirits to Front with a lot of similar thoughts involving what we make.
GC – At what point in your life did you decide to form your band and why?
Ober – I have been working independently as a musician since the early 90's but began working together with other musicians and friends at the very beginning of the new century out of pure curiosity of what would happen.
The first collaborations where more or less just for fun but what came out of it was always very pleasing to me. Collaborating steadily takes the creative process in new directions that you would not think of on your own. That, I believe, has been the driving force for all of us that have worked within this constellation.
Neurobash was formed in 2004. Although I was there in the background all along I was not officially drafted as a steady member until almost a full year later when an extra backing singer and keyboardist was needed. Just from the start, however, I was allowed to contribute with creative input on the arrangements and soon began helping with the production as well. Since then things have changed somewhat after our original lead vocalist decided to step back. There were some internal disagreements of our direction after the release of our first singles. It was the decision of co-founder G-Nome to continue together with me to form Neurobash into what we really wanted the band to be. Basically that meant less standard pop structures and more electronics.
GC – What was the driving force to take you away from the pop structures to more electronics?
Ober – With the singles Shallow Pool and Spoiled we had tried a very fixed pop-structure which myself and G-Nome was never really comfortable with. We simply wanted to put more into our songs than that. As we also love the sound sphere of electronic instruments and synthesised sound, exploring it we decided it should be something quite central in our concept.
GC – What are your feelings on the current main line up of Neurobash i.e. you and G-Nome. Do you feel it was a natural evolution to what you have become now?
Ober – Maybe not entirely. Then again, looking back on our earliest releases what came after that right up to Antitype EP could be seen as a side-track, more or less. It might of course have been quite daring to reinvent ourselves like with Antitype - seeing how long it took, especially. But what we do today I am much more pleased and proud of. Stereotype is precisely what we always wanted it to be.
GC – Who besides yourself is in the band and what background are they from?
Ober – Neurobash is a creative constellation with a crew of artists that have changed somewhat over the years. Currently my only steady partner in crime is Patrick "G-Nome" Nelson who has the rare ability of always surprise me with weird sounds, quirky rhythms and even stranger musical ideas. Truly, that guy is not wired correctly - but in a good way.
Other more sporadic members are Yamo Kawaiah and Danny Niels of Aeongate Studios alongside an ever changing ensemble of backing singers and live musicians. 
I met Yamo during my years in Düsseldorf where he produced some really
obscure j-pop along television and event media. He has proven to be a real resource for Neurobash when it comes to creative media ideas.
Danny owns the studio where we finalise our productions and is since Antitype always there to lay a last hand on our generally quite overloaded material before it lands as downloadable tracks. He is, not the least, a good balance to the rest of us.
GC – Do Yamo and Danny perform live with you?
Ober – Sadly not. Yamo is very secretive about his person and Danny feels a lot more at home in his studio. We have been able to convince him to help us with a bit of live mixing at some sets, but that is likely to be all. We have other people to help us out on the stage.
GC – What was it like to work with Ralph Lundsten for the album The Naked Moon And The Virgin Sun?
Ober – Absolutely amazing! We contacted Ralph with the hope to work with him as a producer for a space-themed follow up on our earlier historical soundtrack "Ladonian Incidents" and ended up co-writing the entire album with him. Just having access to his truly unique collection of analogue instruments and legendary space noise machines was a dream come true. Neurobash added a digital dimension to the table which, I believe, resulted in something that the world had never heard before.
GC – Did you gain much experience musically from working with such a musical legend as Ralph?
Ober - Indeed. I and G-Nome learned more than I could tell in words, really. Ralph Lundsten is not only an enormously skilled musician, but also an amazing person. He is a true inspiration not the least when it comes to embracing new musical ideas openly and daring, even at his current age. Of all the things he has taught me personally, I think the most important is that I should be proud of the music I make, regardless of what other might think of it or electronic music in general. "Real music" or not - what is really the difference?
GC – What are your musical influences?
Ober – Frankly too many to count. The heritage of Neurobash in the old-school EBM-scene should be rather obvious with the main influences of course from Front 242. What maybe is less obvious are the further influences from our individual favourites, ranging right across the entire music scene. Some of the probably most noteworthy that should be mentioned are the Prodigy, Dance or Die, John Foxx, Sparks, Underworld, Dire Straits and Peter Gabriel. Must I mention Depeche Mode?  We can of course never escape all the great music of the early 80's. By now it is a part of our very beings, for sure. So why should we? In truth, however, inspiration can come from anywhere and anything and usually does.
GC – What do you feel is your greatest achievement so far for Neurobash?
Ober – The collaboration with Ralph Lundsten lies close at hand. Other than that I am extremely proud that we finally got around to finish the new album where everything from beginning to end is truly our own thing and also shows the full musical scope of Neurobash.
GC – People will mention pioneers of electronic music to be people like Jean Michel Jarre and Ralph Lundsten.  Are there any others who you would class as pioneers of the electronic movement?
Ober – Adding Kraftwerk and Wendy Carlos almost seem too easy. Vangelis also has a seat right next to Jarre in my world, however - not the least because theirs was the electronic works that I was first subjected to. But there are many others that hold great importance - in fact I could go much further back as to Léon Theremin or even further. Without them there would be much less diversity in today's music.
GC – How would you describe the music you make?
Ober – We are not labelling our own music and are not very fond of doing so with music in general. Genre categories are somewhat of a must for several reasons although and we can at least agree on "electronic".  Music is a quite hard thing to describe with any rational terms, I find. It must simply be experienced. And who really cares about a label for it? We sometimes talk about our music as a future Front 242 with Jean-Luc De Meyer replaced by a partly synthesised but still quite snobby sounding Russell Meal of Sparks singing vocals written for Björk. Or something similar.
Part of what we do and have produced for various art exhibitions and other events are quite a bit more experimental and often range towards ambient or minimal, however. With our latest releases "Antitype" and "Stereotype" you could say that we have begun the journey towards a combination of both these worlds. Our goal is anyway always to produce music and soundscapes that induce a certain feeling or a whole array of emotions. My vocals can, at times, be a mare addition to the intended atmosphere of sound - but at other times carry more weight and meaning.
The combination of harsh electronic sounds, pumping rhythms and soulful vocals is, I believe, somewhat of our trademark.
GC – Your music does indeed stir emotions.  Where do you get the ideas for your music, and I know it may be a hard question to answer, but how do you fill your music with that emotion?
Ober – We try to find themes that we find important and interesting to explore ourselves. We then dress them in sound and words. The lyrics come in on different stages of the process, but the vocal performance is always an important part of getting just the right feeling. It can be very hard to find the fitting style and expression - and sometimes it just is there from the start. Immensely simplified, it is all about letting yourself sink into the music and sing the words straight from the heart. Easy, right?
GC – On the video for Lost In Death you used a DeLorean car, where did the idea for the video and especially to use a DeLorean come from?
Ober – We wanted to make a classical driving themed music video - which seems to come close to hand especially within the electronic scene, really - and as usually added a twist to the whole thing. The DeLorean DMC-12 from 1981 is a personal favourite of mine and we thought that it matched the aesthetics of the track and Neurobash as a whole - something from the future although with inescapable traces of the 80's. We managed to borrow one for the shooting but in the end we were not able to actually drive the car whole filming for various reasons - so we had to improvise. Luckily we are good at that. The Ingvar Bergman theme for the video with me playing chess with Death came to G-Nome after an especially boring day at work I think. Not that he plays any games at work, but he occasionally cheats death while working.
GC – Where do you see your band in five years and what are your hopes for the future?
Ober – I am quite sure we will continue to do what we love which is making music that moves in more ways than just over a dance floor.  Looking at the current state of the music industry it is hard to say where we all are really going, but as I think we can agree on music being a very important part of human society, the importance of music is sure not to decline.  We have our own label since the release of the EP Antitype and are quite pleased with the freedom that gives us at the moment. Our hopes are, of course, to reach out further around the world which is not a really easy thing for a small label. Reaching the DAC is more of a short term goal. How does the saying go - Berlin and then the world?  More to the point, I do believe that we have a hole to fill between the heavier side of electronic music and the softer (so to say) more pop-oriented side. We are for sure not alone in that arena but we are up for a fight for sure.
GC – You have been hailed The National Band of Ladonia, how did this come about?
Ober – We were asked to write and perform some music for the 10 year anniversary of Ladonia back in 2006. It would in fact be the first electrically powered concert in the micro-nation of Ladonia. All equipment - including two diesel power stations - had to be shipped in several instances by boat and then carried over several hundred meters of slippery rocks. We performed during an entire day on a large cliff just by the sea in the shadow of the large tree sculptures which resides there. It looked like something from the Mad Max movies. The Secretary of State was really impressed by the whole thing and decided to grant us the honorary title.
GC – What new can we hear in your latest release Stereotype?
Ober – I would say it is a natural development from Antitype, with the addition of some new instruments. On Inner Conflicts we have introduced orchestral sounds for the first time, complete with an opera singer for additional texture. There is also the occasional bass guitar backing up the arrangements, and with Lovekiller we have made our perhaps first all-out pop ballad. All in all we have pushed our concept of soulful vocals together with harsh electronic sounds and unique rhythm arrangements further than ever before.
GC – Is there any place or venue you would like to play at and why?
Ober – We always try to find new and interesting places to perform our music.  Clubs and smaller venues are a lot of fun because of the closeness to the audience, but it is even more fun if you have a bit more space to move around on the stage.  As much of our material have been what we internally refer to as"place specific" music with elements recorded from a specific environment and then performed there, and we have had some quite interesting requests for such unique performances, we have already performed in a water tower, on the roof of a railway station and improvising with opera singers, ballet dancers and other external singers on a large theatre stage. Unexpected is always fun. But to return to the question, what to say? I think we prefer indoor environments where it is easier to control what the audience is experience. A nice alternative festival would be nice, however. We have never done that. So bring it on!
GC – Pink Floyd wrote themselves into the history books when they played at Pompeii, is there any historical place that you would like to perform at?
Ober – Pompeii is a good choice. With the correct theme there are a lot of good choices for sure. The Chinese Wall would be nice setting, for instance. Just imagine the back-drop you could have on that thing! I have also had an idea for some time to arrange a really massive sound set up at the old front in Verdun, France. With the hope to set off a few of the remaining land mines. Then again that might not be the best of ideas.
GC – Many of our readers may not have heard of Ladonia, can you tell our readers a little more about it?
Ober – The micro-nation Ladonia is a quite small piece of land claimed as a free state by a group of artists as a part of an art project involving the amazing tree sculpture Nimis by Lars Vilks. It all started with him building the sculpture purely by drift-wood in a natural reserve down at the south coast of Sweden. The Swedish authorities tried to get the sculpture demolished but were stopped by a legal process initiated by Vilks. The process is in fact yet on-going, and as the Swedish State indeed seemed incapable of reclaiming or even protecting their property, the free-state of Ladonia was founded around the sculpture in 1996. There are no permanent residents, of course, but it is nice to visit all the same. Recommended!
GC – Without giving too much away is there any instrument or program you wouldn't be without and why?
Ober – I have changed my setup quite some times and somehow still manage to find my own sound with the instruments and recording solutions at hand. But I would have a hard time to get by without a decent sampler. That gives a good base for experimenting and also the ability to use my own voice as an instrument, which is perhaps my most important one. Although I began with classical piano, I am not much of a live keyboard performer, really. Makes one wonder how I ended up where I am now, but I guess I am not alone there. In fact G-Nome is even worse of. He just likes to press buttons - and especially mine.
As for software I use a collection of both commercial and free solutions. Native Instruments Reaktor is a good creative friend in my studio but there are also many free creative tools out there produced by dedicated programmers. A few of my favourites are Ichiro Toda's Synth1 and the Togu Audio Line plug-ins. Excellent and truly creative stuff!
GC – There are a lot of budding new musicians trying to make good electronic music.  What do you reckon is a good low cost setup for them?
Ober – If you can afford it - get a Mac. Otherwise go for a PC with the possible advantage of a whole lot more of free tools and plug-ins. You can come a long way with a standard computer today. Get a good pair of headphones and the best near-field monitors you can afford and be creative with sound absorption material. Use shelves with books for making a sound booth for example. Still works for me.
GC – And what advice would you give to these new musicians?
Ober – At this time and age possibly more than ever - get into it for the joy of making and perform music. Don't expect big money. Just do what you love, and with a bit of luck you will find that others will learn to love it as well.
GC – OK let's have some fun.  My favourite question I love to ask ….. Desert island MP3s.  If you were stranded on a desert island what book, film and album would you like to be stranded with?
Ober – That is a tough one! Book: Frank Herbert's Dune, probably as i always find new dimensions to that one. Film: I would probably go for Ridley Scott's Blade Runner for the same reason. Choosing an album is really a hard one, I think possibly Rendez-Vous by Jean Michel Jarre. But you will get a new answer every week.
GC – We all have days where we do nothing and relax, what do you like to do to relax?
Ober – I am of the restless type, I should admit. The days of just relaxing are growing fewer with each year it seems. But I love film so I do try to find the time to indulge that. Otherwise reading - preferably outside - will do.
GC – We all have a gizmo or gadget that we wouldn't be without be it a phone, mp3 player, etc.  Do you have a gadget that you couldn't be without?
Ober – I would find it hard to get by without my Mac computer and all the creative tools it holds, but I guess that does not quite count. Other than that it would be my DSLR camera.
GC – If you could build a gadget with no boundaries to what it can do, what would it do and what would you call it?
Ober – Nice one! I would really like to build me a multi-dimension-transportation device that would allow me to travel in all dimensions, both backwards and forwards in time. Preferably something like a wrist watch. And I would call it AeonGate although that might be a bit weird.
GC – I remember being a child my favourite band was Adam and the Ants, what was your favourite band as a child?
Ober – ABBA. Oh, my god! Did I really say that?
GC – Thank you so much for giving Grave Concerns this interview, is there anything you would like to add?
Ober - Thank you. And thanks for helping to keep the scene alive and interesting. It will seem I always have something to add but I will let you off easy this time.
Listen to Neurobash: "Lost in Death"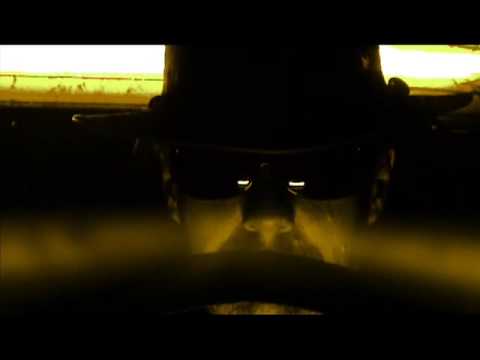 Visit the Band On-line:

http://www.facebook.com/neurobash
http://www.twitter.com/neurobash_news
<![if gt IE 6]>
<![endif]>
---