Last Updated on Friday, 07 October 2011 15:16
Interview: Vondage
Interviewer – Phill Bruce
Interview Date – 15th September 2011
Phill - Can you tell us a little bit of a background about yourself and where in this beautiful world you are from?
Vondage - Right now, we are at our best. We are recording our second album that is being mixed and mastered by (Jan L).X-fusion.  We are waiting to release a remix album of our first album Paradise of Depravity that we had edit  earlier this year. Although, Tubimos our old record label had problems and we are waiting for you to see the light. We will also be in London and some cities in France to present our music.
Phill - How do you plan to remix your first album, how can you make better that which is already amazing?
Vondage - The remix album, Remix for Depravity has been remixed by bands such as ESC, Aktivehate, Hydra Division V, Detroid Diesel . Right now, we are running into problems with our old label for editing. So, we are looking for a new label who is more competent and work in a professional way.  Sincerely "Mgs Army Label" did nothing good for us and now we have many problems because of their incompetence. We to hope soon to find a label interested in our project.
Phill - What new can we expect to hear from your second album?
Vondage - Now, we can not say much about that because it is in phase of recording.  We have a few songs completed and Jan L. is doing a great job of mastering and mixing. Therefore, we will have much more sound quality than our earlier work and will be much more mature than the previous elavorado. Besides, we will have great colavoraciones, several renowned bands when making remixes. IWe hope that by the end of this year it is finished. and we find a record label interested in you can edit this soon.  We are certain not to leave anyone indifferent.
Phill - At what point in your life did you decide to form your band and why?
Vondage - In late 2007 after we had some conversations and shared the same musical interests we decided to undertake the project called Vondage Music. In the beginning it was hard because in the city where we reside a lot of people don't understand what we do. It is one of the country's smaller cities. The good thing is that there are many people outside our city who appreciate our work and  that is what keeps us with the same enthusiasm and circumvention to continue this.
Phill - What city are you from and is there any city in your country where the alternative scene is good?
Vondage - We live in Logroño / La Rioja. It is one of the smaller cities around the country where there is no such thing as a scene of any kind. In Spain our style is not mainstream. Our scene can possibly be found in Barcelona and Madrid
Phill - What is interesting about the city in which you live?
Vondage -   There are many interesting things here, but possibly the only good thing is the red wine from Rioja
Phill - Is there anywhere in the world that your music is very popular?
Vondage - I am not sure what one to tell you. We get many emails from Mexico, Germany, Uk, and Russia. It truly is very gratifying to see that outside our borders are interested in our project and have people following us. In Spain tthey end to appreciate more foreign bands.
Phill - Who besides yourself is in the band and what background are they from?
Vondage is formed by:
Pikotto (keyboards)
Mark Berserk (voice)
Plus live usually accompanied by drummers and dancers.
Phill - How did you all come to meet and eventually get together?
Vondage - Mainly, we met at concerts.  Then, the band was formed by Pikotto and I (Mark) in the phase of creation and composition of the subjects. The rest are just accompaniment to the concerts.
Pikotto from Vondage
Phill - What are your musical influences?
Vondage - Mainly of our influences could be summarized as EBM & Industrial sounds mixed with lyrical and thematic-based horror movies, philosophy, and theology.
Phill - Horror movies, any in particular?
Vondage - Mainly old movies or series b. Dario Argento, Lucio Fulci, George Romero, and Clive Barker adaptations.

We love the terror and everything around him.
Phill - Are there any philosophers that have played a major influence to you?
Vondage - If many people, mainly could tell that the works of Friedrich Nietzsche marked me a lot and is a big influence for me. Also people like Friedrich Hegel, Parmenides, and Thales of Miletus.
Phill - Where do you see your band in five years and what are your hopes for the future?
Vondage - Well, we'd love to play in the elite of the scene and make a living from music but is becoming more complicated be passing through this world but are slowly opening doors in the beginning we were closed. We would love to participate in renowned festivals and demonstrate that we can live up to the big bands.
Phill - Is there any band that you aspire to be like?
Vondage -  No, we just try to be ourselves. There are too many clones to aspire to be one more. From the beginning we have always been trying to find our own sound. It is a complicated task but do not want anyone to be imitators.
Phill - What festival is your goal to play?
Vondage - We would like to participate in festivals in Germany, Russia, Holland, Austria, USA, Belgium.

We hope that more festivals will give us the best chance. We look forward to be able to demonstrate that we are a band that can be up to the others.
Phill - Is there any place or venue you would like to play at and why?
Vondage - We would like to leave Spain and to present our music in as many countries as we can. To date, the only concerts outside of our country were UK and France. Hopefully have the opportunity to visit all parts of the world possible where we appreciate.
Phill - Where in the UK have you played and when do you plan a return?
Vondage - Till date only in London, but we would love to return and visit more cities. We love UK and certainly more if they came calling from places we would go to play without hesitation.
Phill - What is the alternative scene like in Spain?
Vondage - There are not too many bands and it's hard out here in Spain. We do not rely too much on the local scene. There are good people making music. Unfortunately, only be counted on the fingers on one hand. There are only a few that come out of Spain and find a minimum recognition.
Phill - Without giving too much away is there any instrument or program you wouldn't be without and why?
Vondage - I guess keyboards. Cubase and Logic are essential to compose our music. We would be lost without them
Phill - How would you choose to describe Vondage's sound?
Vondage - Good question. Really, I am not sure  how to really explain it. I think Vondage is a live band and that only on stage you can see the potential. Our influences are very clear, we are influenced by the harsh, industrial. On stage is where it is much easier to appreciate our quality. Unfortunately, our first album did not have a great mastering. We hope that our second album can do justice to our concerts.
Phill - Boom a genie appears and says he'll grant you three wishes, what are your three wishes?
Vondage - Possibly an AK 47. Later, would ask endless desires while pointing my gun. jajajaja
Phill - If you could have a dinosaur as a pet what dinosaur would be your pet and what would you call it?
Vondage - If I could, I'd have a big one. Manhunter would be called. jajajaja
Phill - Who is your favourite cartoon character?
Vondage - I have many ... possibly "lion-o"  of thundercats.
Mark from Vondage
Phill - If you could be anyone in history who would you be and why?
Vondage - Good question! The centurion Longinus may, kill and leave no witnesses jesus. So, I would ensure that they are not followers of Christianity and the idea of ​​a Vatican boycott jajajaja.
Phill - What's your favourite shop, what does it sell and where is it?
Vondage - I'm content with the bar near my house jajaja.
Phill - Thanks so so much for giving Grave Concerns Ezine this interview, is there anything you would like to add?
Vondage - Thank you for all your support and people who listen to us and follow our work. without them this would not be possible. and for more information about the band did not hesitate to contact us by email or facebook. A big hug to all.
Phill:Thanks so much again, good luck with your tour and up and coming second album
Take a Listen to the Band: "Humans"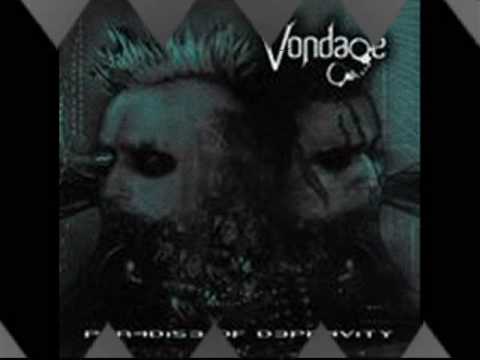 Visit the Band On-line:

<![if gt IE 6]>
<![endif]>
---